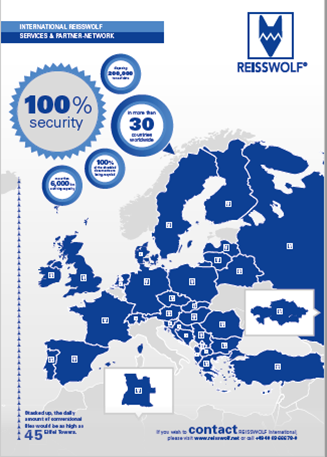 Reisswolf is the leading solutions provider in the domain of information management and integration. REISSWOLF International Franchise network provide secure and legally compliant management solutions that meet the organizational and technological requirements of modern Digital Records Management System (DRMS), Physical Record Management System (PRMS), and Confidential Data Destruction (CCD) of confidential information.
The first company under the name Reisswolf established in Hamburg, Germany by Mr. Volker Henning in 1985 and since then a remarkable growth has been achieved. Today Reisswolf International comprises 68 franchise partners in 35 countries in Europe and beyond with a total of more than 1,200 employees. The company serves around 80,000 clients all over the world and records an annual turnover of over 90 million euros.
And Reisswolf keeps on expanding – both geographically with new partners as well as with regard to its digital services.
30 YEARS OF CONTINUED SUCCESS